If you're choosing who to follow effectively, then your Twitter feed should be full of interesting tweets and links to webpages etc. which you might want to follow up on. It's easy to get overwhelmed, lose track of it all, miss things and mislay things!
Twitter itself has a few features which can help you stay on top of all the information.
Likes (formerly Favourites)
If you see a tweet which interests you and which you'd like to come back to later, you can 'like' it and it will be stored for you to return to. To 'like', simply click on the Heart icon:

When you want to look at your liked tweets, you will see them marked in your Twitter stream, but it's easier to see them all together. If you click on the top tab with the profile icon and 'Me' you will see your 'likes' as well as your tweets, followers and following. Click on 'Likes' to view. When you like a tweet, the person who tweeted it is notified, which may help to gain you an extra follower, but it also gives them feedback on what others are finding useful.

If you set up a Tweetdeck account yesterday, you can also add a column for your 'liked' tweets.
Search
You can also search for tweets, by username, hashtag or just by a keyword. The search box is at the top of the screen in the right hand corner. You can also organise the search results by top (most popular) topics, all results, or limit the results just to the people you follow. You can save the search so you don't need to keep performing it – useful if you're following a hastagged discussion. At the top of the result page click on the more icon (3 vertical dots) to save the search. When you click the search box, your saved searches will be listed underneath.
Curated Timeline Content
Whereas traditionally, Tweets appeared in your timeline in reverse chronological order (i.e. with the most recent at the top), Twitter now decides which Tweets you will find most important. Twitter will select 'Tweets you are likely to care about most will show up first in your timeline. We choose them based on accounts you interact with most, Tweets you engage with, and much more'.
Should you wish to disable this feature, you can do so by removing the 'tick' in the appropriate option in Settings: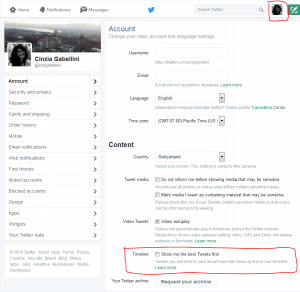 ---
More to explore
If you're keen to explore further, you might look at the following tips, or you might return to them later on, when you've been using Twitter for a while:
Third party applications
If you're feeling more adventurous again today, here are a few more third party apps which will help you curate all the links which people are tweeting about.
Tweetdeck
If you explored Tweetdeck yesterday, you may not have realised that not only can you add columns for lists of people, you can also add columns to follow hashtags. Click on 'Add column', and then choose 'Search'. If you perform a search for a hashtag, you can add a new column to your Tweetdeck which will now display all the tweets using that hashtag, whether you follow the people using it or not. This might be useful if you are following a conference hashtag or chat such as #LTHEchat but don't want to follow all of the people tweeting with this hashtag.
Pocket
Pocket is an application which saves any webpape and blog posts for you to look at in more detail later, when you have time, also when you are offline. It is a bookmarking tool – if you find a webpage via a link in Twitter (or anywhere else), you can save it to Pocket, and then return to it and the other things you've saved later on. Moreover you can tag your saved content. Pocket is a web browser based service, meaning you can access it from anywhere and any device or computer.  To find out more about Pocket, and how to set up an account, see instructions in its 'help' section.
Flipboard
If you use a smartphone or tablet such as an iPhone, iPad or Android device, you could download an app which curates content from your Twitter feed, such as Flipboard. Once you have downloaded the app, you can connect it with your Twitter account (or other social media) and it will draw in the links that people share with you and display them for you. To find out more about Flipboard, and how to set up an account, see instructions in its 'support' section.
Activity for Day 9:
So there are a range of ways to stay on top of all the information that's being shared with you by the people you follow. Choose one that looks useful to you, and experiment with it! Tweet to let us know your thoughts and findings!